What can I say?
As much as I LOVED the colours in the inspiration kit chosen for
April's Counterfeit Kit Challenge
, I was planning to give it a miss. I had a fair bit happening in April and time was flying by way too fast.
I did, however want to do
April's challenge for Scrap the Boys.
The theme is cake 🍰 and I knew just which photos to scrap! I wanted primaries along with maybe green since the pictures themselves don't have much colour and Shimelle's "Box of Crayons" Collection jumped to mind.
Next I started rifling through some cooking themed papers...just because I have them. Then it happened...this cut-apart sheet from Cosmo Cricket's "Early Bird' collection (remember these guys? 😭😭😭) jumped out at me and I knew where this layout was going to go! 💡💡💡
Now I know what you're thinking: "That's all well and good, Mama, but what does it have to do with the CKC challenge?"
WELL...firstly let's take a look at the inspiration kit for April. It's the
March 2019 Hip Kit Club
kit and it's so pretty!
See where I'm going with this? No? OK, well...it occurred to me that my paper for this layout is just a more vintage/retro and slightly warmer toned kit with more red than pink and the green is more of an olivey grass green an the yellow is more buttery...and plenty of aqua and teal...and cream rather than white!
Next, we do our kit dissection as always!
Colours in Inspiration Kit:
Pinks (and a touch of red)
Emerald Green
Royal blue (with a bit of navy)
Mustard yellow
White
Black
Motifs in Inspiration Kit (including embellies):
Polka dots (very large to tiny)/Circles
Geometrics and stripes
Continuous patterns
Painterly effects
Photorealistic
Florals, butterflies, hearts, frames, tags, umbrellas, rainbows, leaves/vines, sunglasses, cameras, bows, holiday motifs
As always:
🎨If I pull a single sided sheet, I get to choose two for every double sided 😉
🎨Cardstock in the kit usually gets subbed with tone-on-tone patterned paper
🎨Some things I pull as needed such as buttons, brads, sequins etc since I have some on hand to use so I don't have to put them away
🎨For these challenges I imagine which of the kits for that month would I purchase (and I had some experience years ago) and base my overall kit with add-ons etc.
🎨I may require a selection of "extras" 😳😳😳
🎨I might cheat. I mean I probably will, but for me there really is no such thing as cheating since a layout made is a story told and some stash used. #winning
If you'd rather watch an unboxing of the main kit and all the add-ons, the lovely
Jen Schow
does a fantastic job here:
So now to my choices. Since I started out with that great retro paper and added some less vintagey designs to help it work with a variety of photos and stories, I have decided to call my kit:
"Back to the Future" 😎
Papers chosen to correspond with Inspo Kit:
The actual Cosmo Cricket paper I based this entire kit on isn't in my main kit, but all my choices were made to work with it or become a bridge to papers with less in common.
Hopefully you can identify how any of the papers in my kit correspond with the inspiration piece in some way. The only exception is the rainbow paper in the centre which is standing in for the specialty paper.
Instead of the blue on blue heart print paper ("Saturday" from the Sunny Days collection by Maggie Holmes in the inspiration kit), I went with a navy paper with a huge heart in the centre ("Outpouring" from the Box of Crayons collections by Shimelle).
The following image simply shows the reverse of my choices and while some might work with the colours and feel of the kit, most wont and look a bit odd put together like that!
Embellishments for Main Kit:
🎨I first added the old "messed up" Studio Calico chipboard arrows and speech bubbles. They have the retro vibe and there are enough colours that will work!
🎨Instead of the word Thickers, I went for two sheers of Heidi Swapp word chipboard
🎨One set of black Thickers as per the inspiration kit! 🙌
🎨Hand picked die cuts with a lot of Shimelle and October Afternoon. I discovered Vicki Boutin's Color Kaleidoscope collections is rather reminiscent of Sassafras so in went a few of those pieces and since the exclusive die cuts in the Inspiration kit had some words I added some of those too. Largish word die cuts and Thickers seem to be so hard for me to use 🤷
🎨Enamel hearts for enamel hearts but it wasn't going to be enough so those little guys from OA need to be used.
🎨Lastly, to sub for the bow clips, I threw in a couple of packs of flair badges and some fabric labels by Basic Grey.
It's actually pretty good considering it's me. 😂
The paper add-on is simple a second set of identical papers so you don't have to agonize over which side to use. I COULD choose duplicates too, or choose patterns which represent what is most likely the "correct" side chosen by the kit club for my own version of the main kit. For my paper add-on, I choose a paper which reflects the "other" side of the papers chosen by the kit club. The complication is each of my papers have their own "other" side! 🤣🙈.
If you watch the video above, it's much clearer!
The October Afternoon newspaper style paper is supposed to represent the photorealistic black and white reverse of the "Blissful" paper from the Sunny Days collection by Maggie Holmes. I placed the papers for the "main" and "paper add-on" in the same position in both photos to make the comparison clearer.
Some are less obvious interpretation like the "Saturday" from the Sunny Days collection by Maggie Holmes in the inspiration kit. Both the heart on the front and my choice for the back is more subtle. Rather than tiny black vertical dashes on white, the reverse had black dashed horizontal lines on green which is "Countdown" and also one of Shimelle's Box of Crayons papers.
The "other side" of my paper add-on shown below
The Cardstock in the inspiration kit has 2 each of mint, blue, pink, yellow and 2 different whites for a total of 12 sheets so 12 tone-one-tone sheets go into my "cardstock" kit too! It's one reason why my kit looks a tad unbalanced with too much multi colour, but when everything is mixed and blended together, it's a perfect balance, I promise!
I didn't even bother taking a photo of the reverse since I almost certainly wont be using that side.
This is where my kitting started to go a bit awry. 🙈
🎨One sticker sheet in the inspiration kit turned into...8.
🎨One chipboard sheer turned into three, one set of Thickers and one roll of washi became two.
🎨The bows were replaced by that box of leftover random pieces from past kits. Surely leftovers gain me some bonus points?
🎨Somehow that sheet of random Glitz dimensional stickers ended up there as well 🤷.
In my defense, a lot of the elements on the sticker sheets especially wont be used. This makes my kit loo bigger than in really is. The inspiration kits are designed as whole and several items are usually exclusive.
I'm not currently doing Project Life (although I have plenty to catch up on), but I do use cards on layouts.
🎨I started by including that Cosmo Cricket cut-apart sheet which served as my reference for this whole kit as the basis.
🎨I also included a border cut-apart sheet also from Cosmo Cricket's Early Bird collection and the "Treat Yourself" cut apart sheet from Shimelle's Box of Crayons. Not all the cards will work, but some will.
🎨I also pulled a bunch of random journaling cards and larger die cut cards/filler cards.
🎨The sticker sheet in the inspiration kit resulted in the same kind of problem as the embellishment kit. One turned into...a lot!
🎨One sheet of gems became...three...but all three were partial packs!
For some reason, I don't tend to store my die cut and fussy cut flowers separately so I just pulled out the whole container to pick from as needed. There is another ephemera pack in the inspiration kit, so the flowers are a substitute for that. There were flowers in the two ephemera pack in the inspiration kits, but none in the die cuts I pulled out. Flowers are a great general kind of motif.
Extras! 😳😳😳
I really wish I didn't have to have an extras section, but it's really only due to the cake layout that set off this whole kit. I felt there was already enough cooking themed stuff in the Cosmo Cricket papers that "wasting" space in the kit with very specific supplies just for one layout wasn't justified.
I don't always used themed embellishments, but certain topics just make me want to...like cake...and coffee!
I also may have included some extra non-themed paper that didn't make the initial cut. I know I know...🙈🙈🙈
Here is the side of the extra paper I'm most likely to use:
and the reverse (just in case):
Well congratulations on once again reaching the end of one of my blogging marathons.
At this point (having forked for the last 7 days to pick supplies, photograph them and finish this blog post) I think
I'm going to declare this kit my April-May Kit!
Now it looks a lot less disturbing (and I have made bigger kits before), so 🙌🙌🙌.
Thanks sooo much for stopping by! I really appreciate it and please check back for actual projects made with this kit!
SUPPLIES:
The products I used are listed below:
This post may contain affiliate links. By clicking on the items or making a purchase (at NO additional cost to you) you help support this site, so a big,
pink
THANK YOU!
Please rest assured I only recommend products I personally love!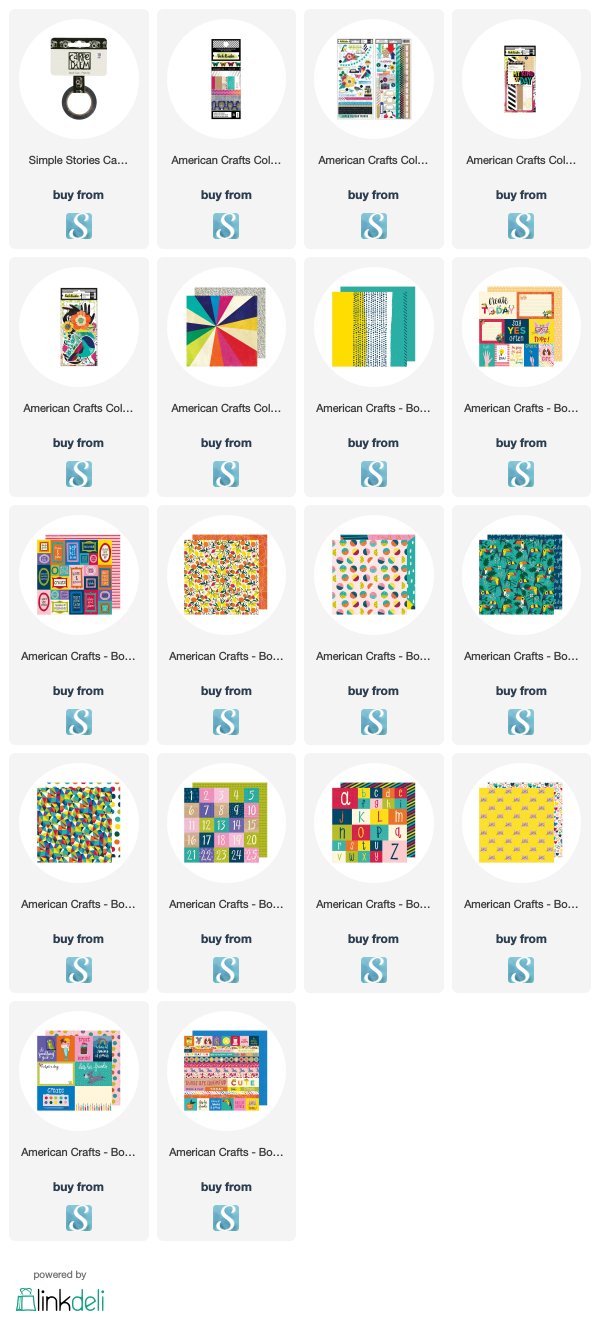 Love and crazy kit collating,