Hi lovelies! Today is challenge day for Design Team B for the
Through The Craft Room Door Challenge
. This is a WEEKLY "anything goes" (any type of project and any theme) challenge with 2 design teams who alternate weeks to make projects showcasing the sponsor who often offers PRIZES!
This week's sponsor is a company called
Stamp On It
. Here is a little bit about them:
"Stamp On It had it's humble beginnings in Holland MI 25+ years ago.... started out as a "home" business, soon became a storefront on the north side of Holland, grew to a 2nd store front in Grand Rapids, before closing the Holland store and enlarging the Grand Rapids one! We began doing small craft shows years ago, slowly adding rubber stamp conventions to our schedule, expanding to almost full time shows on the road before making the decision in the fall of 2009 to either close or sell the store. Before we were able to close the store, one of our employees voiced her desire to purchase the store! Long story short, we "sealed" the deal by the end of 2009 and became pretty much full-time rubber stamp convention vendors on the road.
Stamp on it are offering the winner
3 Digital Images
from their store!
When I picked my image, I already had some feint rumblings of an idea in my head. I should have known better than to let it inspire a false sense of confidence! 🙈🙈🙈
So shall I tell you about today's
misadventures
craft process? 🤣🤣🤣. I'm telling you it's every,single.time. You get to the point when you have to laugh or cry and I'd rather not cry over something I enjoy!
Aaaanyway...since I had a vague idea how I wanted the finished card to look, I opened up the file to resize it and print and since it wasn't doing what I wanted, I thought I'd try opening it in Silhouette Studio and that was much better,
Not only that, but it meant I could use the machine to cut it out. So what does one do when she decides she wants the paint palette in a woodgrain, but the paint blobs in white so I could give them a bold colour? 🤔
To cut a long story short, the "print and cut" feature hated the woodgrain paper and the paint blobs came out OK, but the brushes were too thin at that size.
It was also the time that Australian stores started getting the We R Memory Keepers Foil Quill for cutting machines so when I couldn't get the card front to look balanced, adding some faux stitching along the diagonal helped. The good thing is that both the laser printer and the foiling can tolerate pretty much all types of paint and ink. The down side is that the black foil and laser printer look basically the same! 😂 I had hoped to see a shinier finish on the foil, but never mind! You can sort of see it in some of the photos below.
More on the Foil Quill another day!
I placed the palette as a template to get the approximate position of the paint streaks. Removable Glue Dots performed beautifully once again! 👍👍👍
The paint didn't turn out EXACTLY how I planned either, but still OK.
While all that was drying, I coloured the paint blobs from white cardstock with Copic markers. Colouring over the woodgrain paper still shows some of the wood pattern through the ink. This is fine for where I wanted the paint to look smeared or spread on the palette, but not the blobs themselves.
They were so tiny that there was no way any shading would happen. I did, however, colour the brushes straight over the woodgrain being darker colours. Finally something went right! 😂
I covered the blobs with a thick layer of glossy accents and a thinner layer over the brush handles. More sitting and watching paint (and glue!) dry!
At this point I felt something was missing. As I went to assemble the bits on the front, I realised what it was - I had forgotten to foil the sentiment! 😱😱😱
I had even figured out how to fill in a font much more quickly than the "old way" of messing about with offsets and things. 🤦
Out comes the Silhouette. Again. Out come the quills. Again. Cutting foil and heating up quills. Again. Initially it looked as though the size was going to be OK, buuuut we had a Goldilocks situation on our hands and it was tooooo big. 😫😫😫
I simply couldn't face yet another attempt at foiling, so when technology fails, I did what any sensible girl does and went old school. I pulled out my grandma's old Olivetti from the 1960s! I love the imperfect look of old typewriters!
The only foiled bit of the sentiment I kept was the world "colour".
Shimelle's "Box of Crayons" 6x6 pad had some great rainbow and colour/art inspired patterns. The pencils in this design give a nod to the wooden paint palette!
I found my AB faceted gems from the Ink Road and put them in a safe place about a day or so before I needed them, Then promptly forgot where that was...and eventually after much angst located them again! 🙌
Permanent Glue Dots were essential to adhere watercolour card fronts to card bases in order to have enough strength to stop the slightly warped paper from pulling away from the card base. I doubled up the same dots for the smallest hint of dimension to the paint palette. The sentiment was put up on foam and my Mini Glue Dots for those pesky gems are super strong and take their weight with ease.
You Add Colour To My Life
Thanks for sticking with me and I hope you find time to enter this challenge!
I'm also entering this card in the following challenges:
The Crafty Addicts Challenge 59
Crafts Galore Encore Challenge 62
Creatalicious Challenge #158
Artistic Inspirations Challenge #214
Crafty Catz Challenge #458
Make My Monday #94 Diamonds
(hope my blingy AB gems count!)
Simon Says Monday: Going Around in Circles
(hope my pattern paper counts!)
Supplies:
The products I used (or similar) are listed below:
This post may contain affiliate links. By clicking on the items or making a purchase (at NO additional cost to you), you help support this site, so a big,
pink
THANK YOU!
Please rest assured I only recommend products I personally use and love!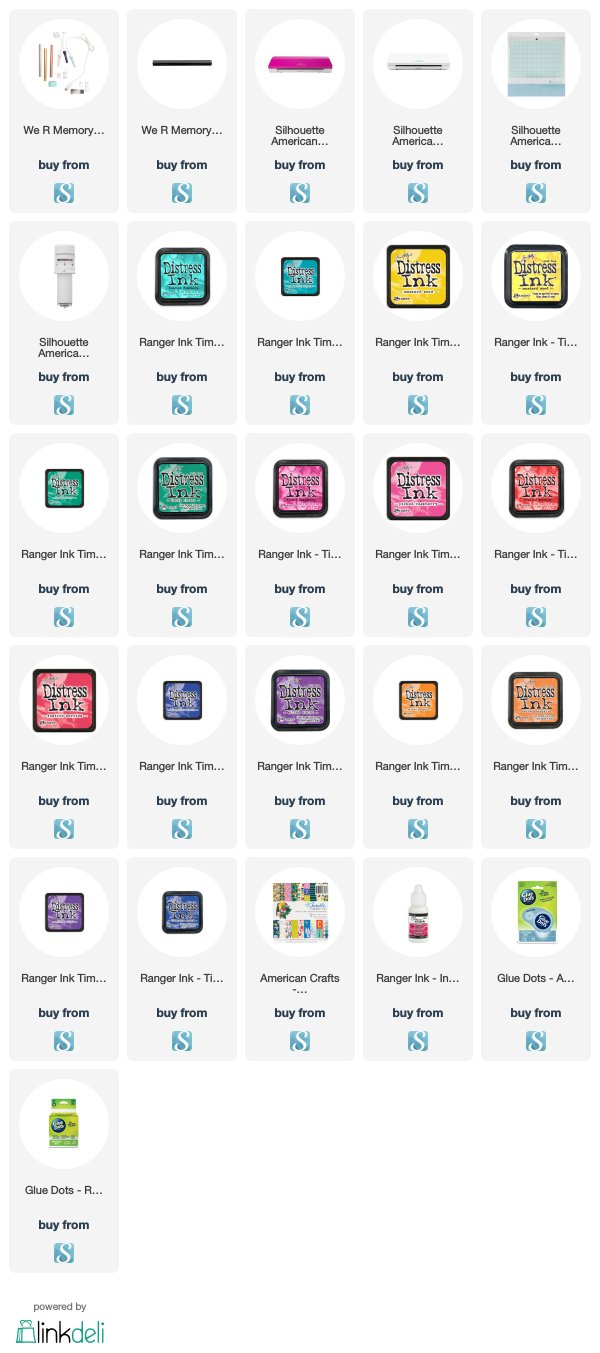 Love, and use AAAALL the colours!