Hello Lovelies!
This month our sketch for the
Stick it Down Single Page Team
is by the lovely Antonia and I REALLY love it!
I can't tell you how I came to chose Book Week for this layout, but I did and what better way to use all the fun and whimsical images from Shimelle's Head in The Clouds and Never Grow Up collections.
Aren't childhood stories all about the dragons and unicorns and mermaids and all those fun things?
I decided to use one of those really REALLY hard to use background papers with a "scene" on them. Just because I could I guess. Few of my stories (at least so far) seem to lend themselves to them so I tried not to re-think my decision and just jump in.
I picked the one from the paper pad. It has the coppery foil accents which make it a bit more special. I backed it with the burgundy heard paper to tie in the other main colour in the layout (my nieces certainly are stretching me trying to make me use green and burgundy on the same page!).
I do confess to gutting it which I rarely do simply because I love it so much and wasn't sure if I'd want it for mats or embellies.
I opted to literally interpret the instax style frames in the sketch since I have a huge box of them which don't often get used. Every time feels like a win for me.
I was going to gesso the paper under the pics so the embellies wouldn't look so crazy. It dried more opaque than it usually does, but most ended up covered anyway. I figured this could be the part of the sketch that shows stenciled paste or ink.
Title
Perfect colours for the first three words taken from two Paige Evans thickers sets and the rest from Shimelle's Never Grow Up Thickers

Journaling
Embellies
Loads of stickers and die cuts and one or two chipboard bits. I also fussy cut some books from a Head in the Clouds Up patterned paper.
Lots and lots of Glue Dots (Thanks Columbus Trading!❤️) for sticking down stickers which have been put down and peeled up so many times they might as well have been die cuts!
Enamel pearls and excessive white mist splatter to finish. Of course!

Mulan and the Green Sheep
Please be sure to see what the other girls made and create a project of your own based on this sketch or one of the others!
This post contains the following affiliate links for the same or similar items in my layout. Please rest assured I never recommend what I don't love. You can learn more by clicking on the tab under the title bar.
Clicking on the via my blog doesn't cost you any more, but it helps me run the blog and YouTube channel. Your help is greatly appreciated!
Products used: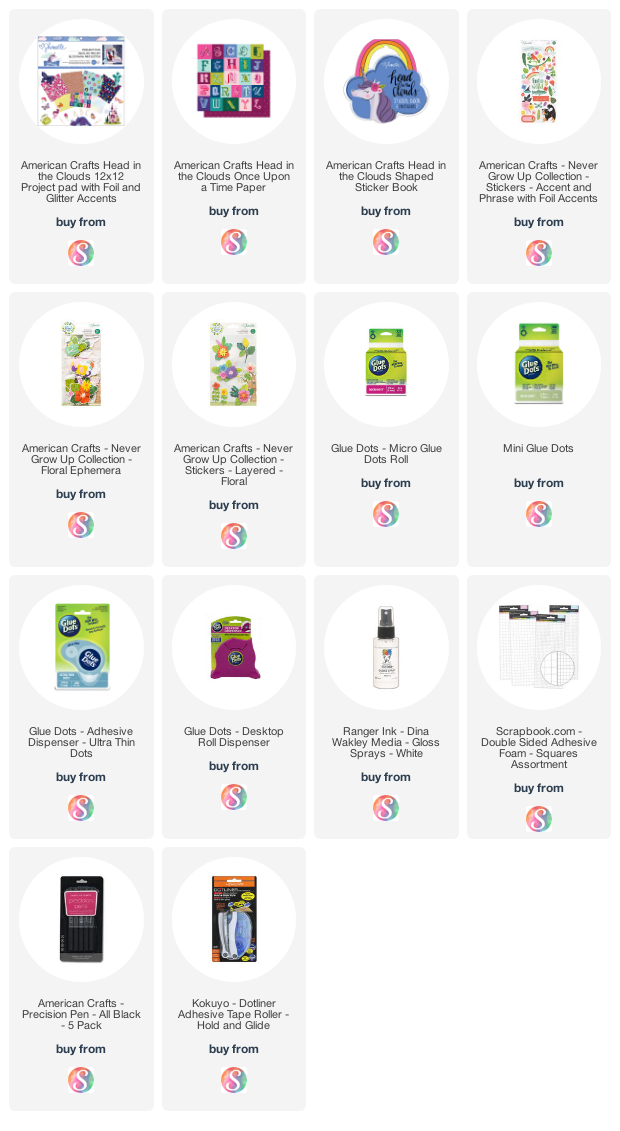 Love, and Stick it Down!