Hi Lovelies!
Today is challenge day for Design Team B for the
Through The Craft Room Door Challenge
. This is a WEEKLY "anything goes" (any type of project and any theme) challenge with 2 design teams who alternate weeks to make projects showcasing the sponsor who often offers PRIZES!
This week's sponsor is
Sheep Ski Designs
. You can read a bit about them below.
Prize: 3 Images
"Living in Leeds, Yorkshire in the UK, working full time as a Management Accountant, currently working on 2 design teams and an obsessive crafter and creator of cards. I have no actual style as yet but do love the unusual and quirky. I may be known for producing cards in soft pastel colours.
I love anything arty. I've always drawn stuff, for as long as I can remember. In my younger days I sold a few watercolour paintings. I recently found mixed media which is a joy and love creating canvases with flowers.
I had a battle with digital drawing for about a year and finally found some software I could gel with. January 2016 a challenge team I worked on was short of a designer's images to create with so I drew some. I opened my shop a month later so I could sponsor challenges and give something back to the crafting world, to the lovely ladies who have supported me on my journey.
I've a Facebook group SheepSki Designs where I hold challenges, some for fun to win digis as well as my monthly card challenge. I've a SheepSki Designs challenge blog as well. Things are growing slowly (thankfully) so I still manage to spend at least a little time with my hubby
Welcome to my world"
Well...I'm not really sure where to start with this one! You know my reputation for something always going wrong?
This time it was a total disaster! I'm not just being overly dramatic either! I mean having an unusable card when you're already running a bit behind schedule to submit it for the Design Team post!
It's a good thing this Pink Crafty Mama thrives on adrenaline! Well this is what happened:
I decided I wanted to work with this cat image by our sponsor. I suspected it wouldn't be the easiest to colour with
Copics
, but I already did a watercolour cat card so I wanted to mix it up (says she who is always making cat cards - KNOW! 🤦). The lines were really simple and I wasn't sure I was up for making a galaxy background with
Copic markers
, although I could definitely do it with
Distress Ink
.
All I have to do is mask the coloured images then do the galaxy sky the usual way. I wanted to
practice
colouring different kinds of cat coats and I even managed to get a darkish lilac type of coat coloured! Darker was OK because it's night after all.
This guy is grey and white rather than lilac, but you can see what drew me to the image with the cats on the roof!
After everything but the sky was coloured, I stick down my sheet with
Removable Glue Dots
and applied
masking fluid
...
BIG MISTAKE!!!
I should have done a test patch, but I felt so confident at this point (I really should have known better, since nothing really went wrong so far) and even liked my colouring and everything!
Xpress-It Blending Card
is generally more delicate than other paper. Not only did the masking fluid seem to "suck" a fair amount of colour out of my images, but it tore in some areas. I was devastated! I also had a deadline!
OK, Big girl pants on and time to Plan B.
Let's paper piece it. I don't even need to choose paper with realistic textures although I did for the sky with the amazing
Altenew Celestial paper pad
. Those galaxy skies are amazing! I also used a
Kaisercraft
Australian paper for the roof since it had rusty corrugated iron texture.
A grey polkadot and brown cork for the cats and I traced the moon shape onto an actual moon from
Shimelle's Starshine
paper pad to try giving it a bit of that texture. You do need to know how ro ajust your printer tray to accomodate different sized apers (I used 6x6) and also adjusted it in my software so I could see how the image fit on the paper.
Naturally I couldn't resist the lure of clear
Wink of Stella
lightly brushed over the moon before adding the sentiment on foam squares.
The sentiment was stamped using
Altenew's To The Moon stamp set
in
Midnight Violet
and
Pure Graphite
Crisp Inks
.
Micro Glue Dots
were the ONLY thing that would hold the tiny stars to the slightly shiny background paper.
Surprisingly, it turned out better than although, although far from what I had in mind.
I Love You to the Moon and Back Cat Card
So naturally it makes me wonder how could I have made my original plan work. My first thought was using
masking sheets
. But it's a
digi stamp
so there is no way I can put one of those through the printer.
I suppose using a template cut from images printed on paper or light cardstock then using them to trace around onto the sheets could work, but
DEFINITELY TEST FIRST!
Using an alternative paper was another possibility. Many people use
Neenah Solar While
for Copic colouring. I have it in the 110lb weight and it's definitely too thick for my printer. I'm waiting for the 80lb to be restocked in A4 size. Again, before assuming masking with anything will work with
Neenah
,
DO A TEST FIRST!
I always like to revisit any project which has not turned out the way I wanted and this will be no exception. Kind of like not wanting to be beaten by paper! 🙈😂
SUPPLIES:
The products I used (or similar) are listed below:
This post may contain affiliate links. By clicking on the items or making a purchase (at NO additional cost to you) you help support this site, so a big, pink

THANK YOU

!
Please rest assured I only recommend products I personally love!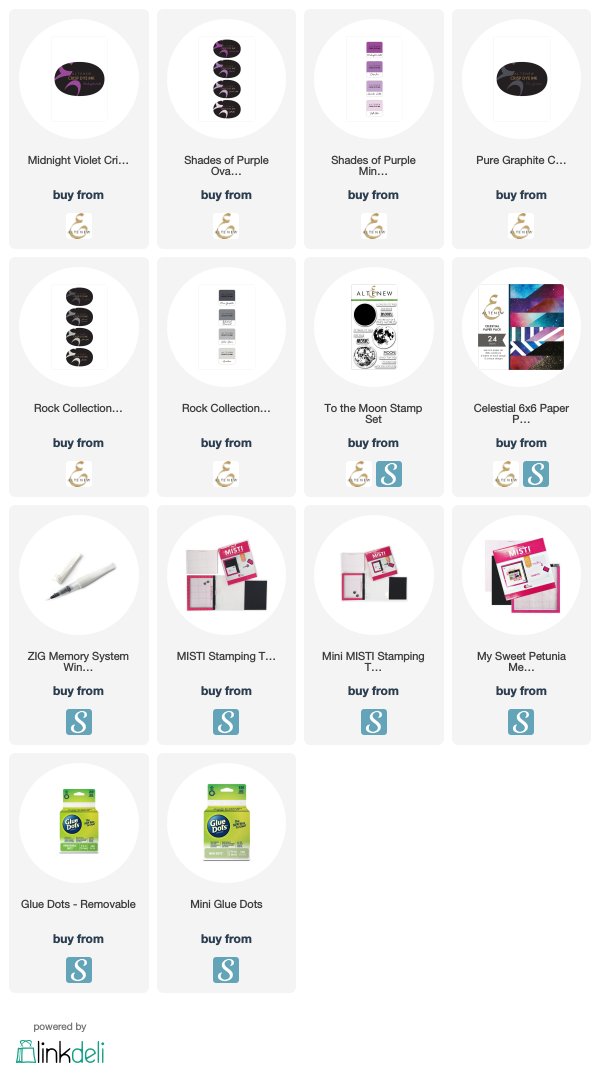 Love and minimal mistakes,